How Our Services Work
Assessment of SPACE
Every successful project starts with a good plan, so Let's Get Started!
Our complimentary 20- minute phone consultation to get your information about what's going on in your world- through a series of questions we discover the top areas of priority you have to get organized. We help you define your vision and goals, identify and discuss factors that contribute to your disorganization, and recommend helpful resources to get started. Then we schedule a time to get started.
From the minute we arrive the plan will be put into motion a plan for the specific space. During our first session, we will create a custom solution and personal design to reflect your style and a strategy to get started. Basic sorting and decision making with you the client and a plan of action for the custom space to be organized is developed. A list of Product suggestions is made for organizing the space to it's fullest potential for your belongings. Once the shopping is done another session is scheduled to install and organize your customized space.
When it's time to purchase products, we can do the shopping for you! If we are ready by our next session, our plan is to arrive with products, they are then installed in the space and then your belongings are given a new home so that "everything is in it's place."
Benefits of Being Organized By Terri
*Although we are not card-carrying 'Magic Wand ' holders, we do work fast (that is as fast as you our client can make decisions). WE want this to be a smooth experience, so making decisions is a big part of the process!
*Once the stuff that stays is identified-we love finding just the right way to store it-so YOU can maintain your space!
*No more looking for your things in random places, it ALL makes sense now!
*No more buying duplicates of your things and discovering the extras later!
*Peace, sweet 'peace of mind' because now your things are where you can find them and return them to their home-and that's called Maintenance!
Sessions & Organizing Packages
After an Assessment had been made by our complimentary 20-minute phone consultation, we will schedule time for our first Session.
*We have a 4- hour minimum

*Residential/Hands On Organizing
*Additional fee if extra pair of hands is needed
Team Organization By Professionals
~~~~~~~~~~~~~~~~~
We offer 10% savings on our 20~ Hour Organizing Packages -When there is a lot to be done and one day won't be enough!
Call for our pre-paid rates.
~~~~~~~~~~~~~~~~~
Want to do it yourself? Virtual or Phone 1-Hour Session $100
IN-Home 2-hour Session $125.
~~~~~~~~~~~~~~~~~
48-hour Cancellation Notice before a Scheduled Appointment
Clients Scheduled that Cancel Without 48-hour will be billed 50% of session.
Also available are Gift Certificates!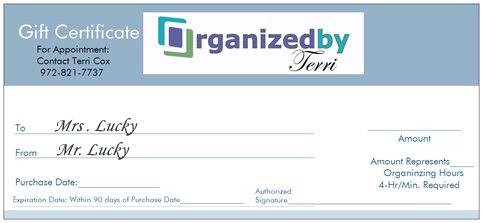 All Major Credit Cards, Cash, Credit
Contact Terri-972-821-7737
Email: terri@organizedbyterri.com
Types of Residential Services

De-Clutter~ What is holding you back from getting organized?
Organize~ All areas in the Home & Home Office~Business

Downsize~Need to downsize for a transition or move?

Downsize for Sale~ See Our Resource page
Estate Sales~ OBT Estate Sales
Photo & Memorabilia~Are those family pictures & memorabilia stored correctly?
Relocation Services~From the start we are there to establish order!
Specific Needs
We can partner with your coach, real estate agent, interior designer, architect, or therapist to create a streamlined process that will help you become more organized, less stressed and get more done in less time so that you can enjoy your life, not be burdened by overwhelming lists of things to do. Almost immediately, you will start to accomplish more, meet deadlines, find things when you need them, and gain control of your environment.



Most importantly, our team of organizers can help you accomplish the vision you have for being organized. You may be going through mayor lifestyle transitions, and need the support we can give to make those transitions easier.
Together we can create a personal design to reflect your style and organization to fit your needs making it easy to maintain.
OUR GOAL: Creating for you a place to relax, rejuvinante, nurture and shelter your family and yourself.
~~~~~~~~~~~~~~~~~~~~~~~~~~~~~
Speaking Engagement Opportunities For Your Group
Time Management-Individual and Workshop :

This workshop will guide you through the process of incorporating both home and work schedules. Coordinating daily life calendars, appointments, lists, To Do's and notes. Teaching you the fundamentals in a fun and creative way in order to get a realistic perspective and prioritize what's most important to you.
Home & Work Agendas Planning: Client session of our workshop to provide you with one souce tho handle the details of your daily life-including the appointmentsm listsm 'to do's' and notes.
Girl's Night Out Organizing Workshop: Relaxed session in your home with your invited guests to join in a fun & educational get- together. Terri will share her favorite organizing tips, techniques, and products geared toward busy Moms.
Group Meeting for Church Organizations & Home Organization and Topics:

Home organization of paper, kids paper, and dealing with the stuff of life. Terri will share some inspiration that will encourage you through that adventure we all share in called

life!
Initial Client contact and assessment of Estate
Set a date for the Sale
Begin the sorting and process to set up the sale
Publicize the Event
Hold the Estate Sale Event
Pre-arrangement with client for remaining items after the sale and their removal
Relocation Services
Our Team will sort through all areas directing you with the sorting process helping you decide what to keep and what to let go before you pack up for your move
Label and tag all boxes for easy retrieval during your move
In your new home, we will meet the movers at the door to get boxes to the right location for unpacking. We will unpack , organize and place your belongings into the point of use they will be needed.
The boxes and paper will be packed away to recycle to the moving company


Overwhelmed with Clutter in your home? Then envision how you would like those spaces to look, function and feel. We can help to establish order and create a livable & peaceful environment.
Not sure yet if professional organizing is for you? Call for a free 20 minute consultation.

Need to talk to a Professional Organizer?
Call today to schedule a one- hour consultation/coaching session to discuss your organizing needs when you need them most. $50 per hour.
Contact Terri-972-821-7737
Email: terri@organizedbyterri.com
PROJECTS GET A 'BOOST' with US!
Organized By Terri

provides closet/space design/planning and installation services to get projects completed!
Our Handyman service installation:
Handyman service includes removal of EXISTING shelves and closet rods, wall repair and basic white paint. *
Installation of all purchased products.
Our courteous installer will clean up thoroughly when finished
*Removal of any additional existing shelving such as shoe shelves, built in dresser shelves cabinets or drawers or special paint requests will require an additional fee.
Allen, Anna, Colleyville, Coppell, Denison, Denton, Flower Mound, Frisco, Gainesville, Gunter, Lewisville, Little Elm, Lindsay, McKinney, Melissa, Murphy, Plano, Prosper, Richardson, Roanoke, Sherman.
"Creating Personal Designs for Effective Style and Organization"TM