"Getting organized is more than just purchasing great containers to hold all your stuff. It's about using what you have, donating what you don't need, and recycling whenever you can." - Southern Home Organizers
Here are some useful green organizing tips you can start implementing today:
Utilize recycled products when available
Reuse items around the house rather than buying new products
Limit what you send to the landfill by donating, gifting, and recycling what you can
Purchase organizing products from companies that adhere to environmentally-friendly manufacturing practices
Use a small white board instead of multiple paper notepads to jot quick notes
We Offer Gift Certificates!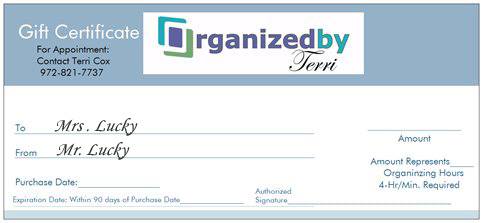 If you are looking for that perfect gift for that special someone a gift certificate is a great way to get started.
Contact Terri-972-821-7737
Email: terri@organizedbyterri.com
All Major Credit Cards, Cash, Credit
D/FW and Surrounding Area
Allen, Anna, Colleyville, Coppell, Denison, Denton, Flower Mound, Frisco, Gainesville, Gunter, Lewisville, Little Elm, Lindsay, McKinney, Melissa, Murphy, Plano, Prosper, Richardson, Roanoke, Sherman.
"Creating Personal Designs for Effective Style and Organization"TM